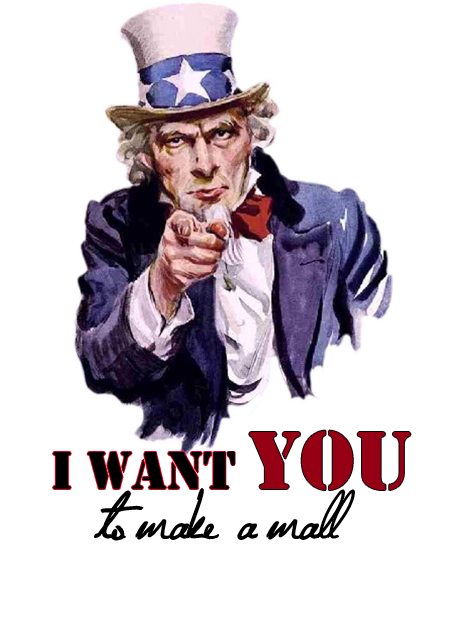 Hey there.
Had a talk to Repo today and got some nice new ideas for GTA SA. As some might know, I try to make map parts as well besides converting cars, jsut for fun and making SA a lil bit nicer.
So, anybody knowing that Silicon Vally like part of San Fierro, southbound at the highway? It has two water basins, some bureau buildings and a building which is smth like a shopping mall. Thats the main part I want to talk about. Its at least not only my idea, it was Repos as well:
What about modelling the interior and filling the single lots with places? Lets make a big mall out of it! Now your part comes: I would suggest to give away single lots to you. Everyone who hooks up will get a lot or two, and fills it. Means: modelling the whole part, texturing it, and finally placing it in the mall. As simple as it can be. You are totally free in what to do, maybe a shoe shop, sports shop, music shop, furniture, McD's, BurgerK's, Kentucky Chried Ficken (ok, germans would laugh right now).
Rules would be:
- order just as many lots as you can handle!
- you get one "rawfile" per lot, as a sizement and border help (.3ds or .max)
- only GTA Materials, import a dff to see which settings.
- all has to be ONE mesh in the end.
- keep inside your lot, if you need it bigger, you need a second lot.
- keep it lowpoly
- keep textures small. High res is ok, but keep it GTA please.
- use as less textures as possible, combine textures if possible (multiple parts on one png)
- no alphas!
- do not resize the rawfile!
- do not model things, which can be placed with MEd and are already ingame
For ordering a lot, you have to know what you want to make, where it should be placed. Think about things which are already ingame. Example: if you wanna make a McDonalds, GTA already has chairs and tables. Model the floor, the bar, some signs with the M and else, the kitchen.
For now, I just want to know how many would contribute, have ideas and else. ou do not need a huge effort in modeling, a tiny lot could be done in less than 2 days. Besides that, I want to have a texture share, because we have to keep the numbers of textures small. GTA SA has a limit of ingame objects, so I plan to throw them alltogether as very small number of parts to bring ingame. That means, TXDs are a small count too with lots of texes in it. So if you use a texture, upload it to filebam, link it in the developing texture topic (which will be done once we really start!). If a texture in that DTT fits your needs, rather take it instead of making or searching a new one. Thats a point all contributors have to be fine with, as it saves lots of work, space and effort.
Ok, lets have that in brainstorming mode until we get to planing mode. Share your ideas, share your knowledge, tell me if you would and want to contribute. But one single wish I have: use the Topic at Kottons, it would be hard to keep three forums up to date, so I wanna choose Kottons as headquarter. I hope noone would mind.
Here's the topic:
http://s1.zetaboards.com/Kottons_Chop_Shop/topic/1150615/1/
*thx to mummi for the great pic!